FRIDAY 3 JUNE 2016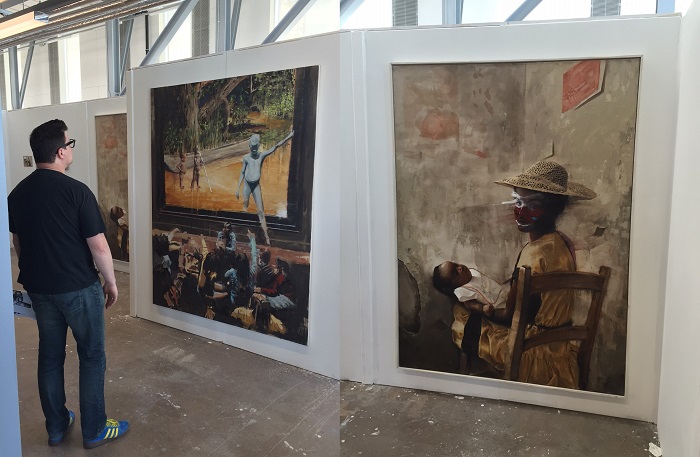 Ciaran Harper's award-winning degree show
Annual Degree Shows open with a buzz at new Belfast School of Art

Last night, the art world descended on the Belfast School of Art. For one week only, the University campus is transformed into a gigantic public art gallery, free to explore the freshest talent of graduates. It's the first year the annual degree shows have been presented in the new fine art building and with over 5,000 visitors, the place was buzzing with excitement, with everyone absorbing the abundance of creative energy pulsating through every space. The views from the upper floors are also spectacular, with the Cathedral Quarter still in a state of transition as a giant construction site sees the foundations for the new University building.
Level 7 is the painting floor and always attracts a giant crowd of art collectors, with many red dots already punctuating the walls before the official opening at 6pm. This year's highlights include Ciaran Harper, recipient of the Carson McDowell award, and Daniel Coleman, both offering a strong international aesthetic. On the floor below, visitors enjoyed interactive sculpture installations and a rooftop sculpture garden. The floor-to-ceiling glass panels offer a wonderful opportunity for the works to engage with the urban environment of the city and even the meandering hills of the rural environment beyond. The Master of Fine Art show saw a beautiful gold leaf floor and wall installation by Stuart Calvin, winner of the Flax Art Residency Award.
Other highlights include a botanical installation, an interactive hairdryer artwork which reveals the image after heat is applied and a curved ceramic skirting board with a yellow glow behind. The graphic design department offers an impressive selection of funky postcards for sale and the ground floor space devoted to the MFA Multidisciplinary Design is perhaps the most professional display throughout the entire main block, akin to a highly-polished design fair. Be sure to check out Paul McNally's Five Things project which saw the publication of an impressive book with contributors from all across the globe.
Details: Belfast School of Art, Ulster University, York Street, Belfast, BT15 1ED. Open from Saturday 4 June to Saturday 11 June 2016. www.belfastschoolofart.com
Brendan Jamison, 3 June 2016






Fine Art Painting graduate Daniel Coleman

Sculpture roof garden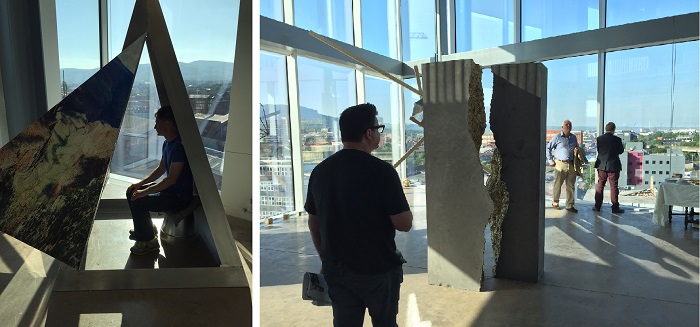 Sculpture displays in dialogue with the urban world through the glass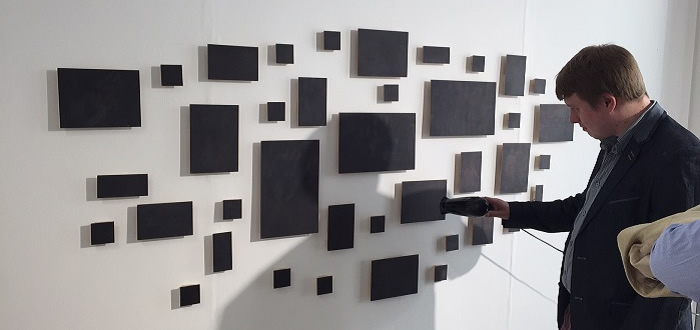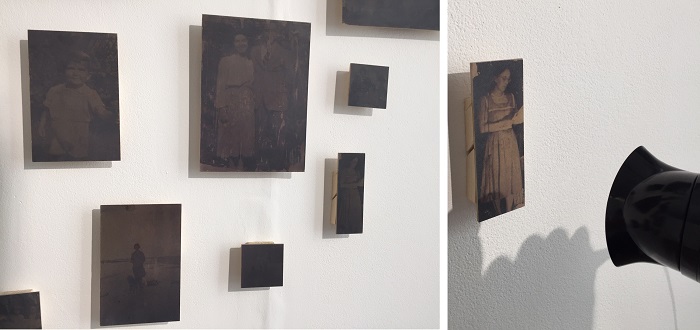 An innovative and intelligent approach to audience engagment: an interactive hairdryer artwork. Images are slowly revealed with heat to the surface.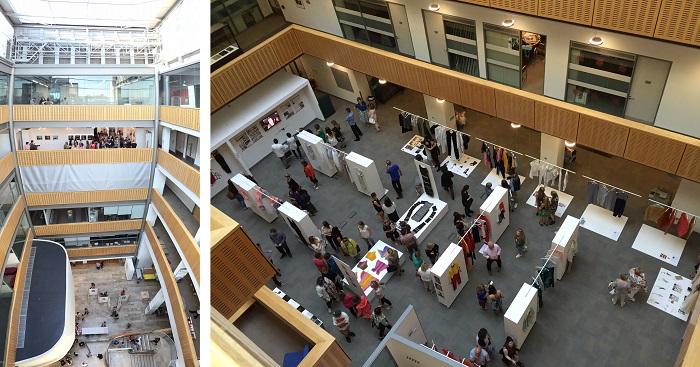 Fashion and Textile Design always deliver a high stantard of professional presentation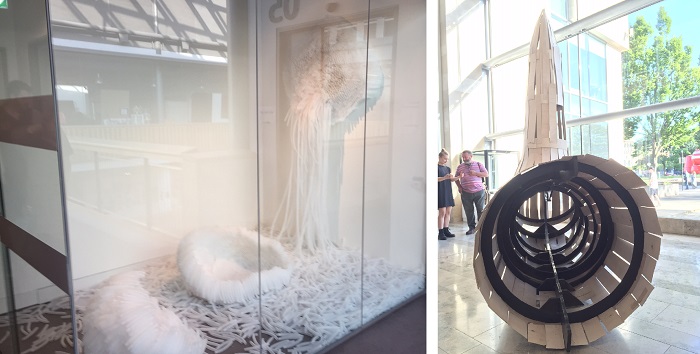 Material delight: sculpture installations in the main building block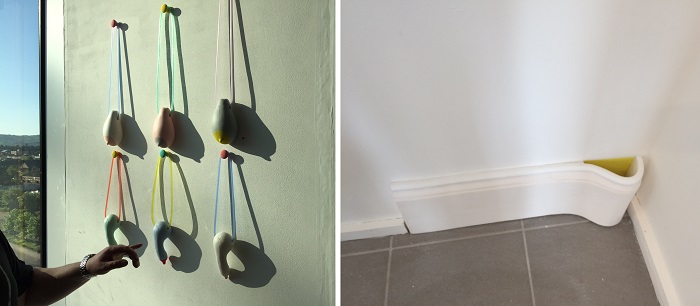 Highlights of the ceramics department

FRIDAY 22 APRIL 2016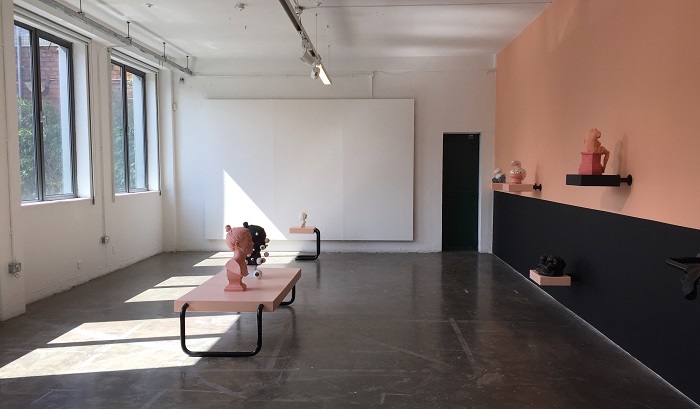 John Rainey's solo exhibition at the Golden Thread Gallery Project Space, April 2016
John Rainey On Visibility at Golden Thread Gallery
The immediate impact is the peachiness of the long wall, divided with a lower black section, like a contemporary reworking of an old stately home. Aside from the feeling of a boudoir, the fleshy tone effectively enhances the 9 works on display, all echoing the wall.

The sculptures are mixed media works, combining parian porcelain, steel, silicone, polyjet prints, z corp prints, chains and glass eyes. References to classical poses spring to mind, however, the intelligent display and handling of materials makes the show feel very fresh and contemporary. Are these biological models gone awry? There is something eerily sinister about the use of eyes, at times like something out of a horror movie as we stare into a serial killer's playroom. And so the sculptures are as alluring as they are unsettling and this definitely creates a successful edginess to the show.

The display is exceptional, a beautifully curated exhibition which is a joy to navigate. Rainey definitely challenges the viewer, pondering the hybridised forms as they oscillate between manual construction and 3D printing. We are left with a series of questions to reflect upon. Are these bodies dissolving into a digital realm? Is this some form of tragedy unfolding before our eyes? Is it a wrestling match between conservative and progressive ideologies? Are we at the cusp of a new era in the evolution of humanity, with replication and virtual worlds becoming more visible and more dominant than the physical world?
Intelligent. Spooky. Stimulating.
Details: Exhibition continues until 14 May 2016. Free Entry. Opening hours: Tuesday to Saturday from 11am to 5pm. Location: 84-94 Great Patrick Street, Belfast, Northern Ireland. For further information visit the Golden Thread Gallery website.
Brendan Jamison, 22 April 2016






FRIDAY 1 APRIL 2016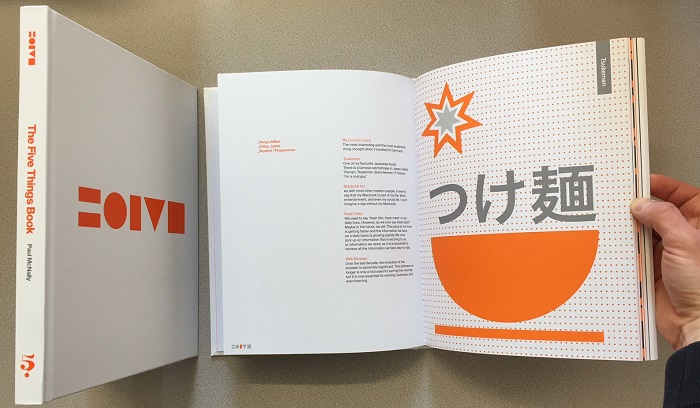 Paul McNally's book: Five Things
Paul McNally's Five Things at Belfast School of Art

Today saw the delivery of the Five Things hardback book by Paul McNally (37), a final year Masters student at the Ulster University in Belfast. In early 2015, he invited a short description of people's five favourite things. The submissions poured in from musicians, designers and artists from all across the world. It offers a fascinating insight into the things we truly love…favourite places, inspirational people, culture, music, books, movies, poetry and food. Perhaps unsurprisingly, objects are the largest category, ranging from practical to deeply personal and sentimental.
McNally has spent the past year selecting the most exciting responses from his top 118 participants, spread over 14 countries and all bringing a unique perspective to the project. The book also includes a special foreword by Game of Thrones actor Kristian Nairn. He takes a trip down memory lane and even ponders the philosophy of human nature and its craving for objects to surround the body and mind.

Developing a shrewd marketing campaign, combined with a strong set of interpersonal skills, McNally raised over £9,000 through a Kickstarter campaign in December 2015. This allowed him to realise the project as the core component of his MFA Multidisciplinary Design at the Belfast School of Art. The book will subsequently be assessed this May!

The layout is fresh and funky. The use of Pantone orange, in both text and graphics, not only radiates a warm vibrancy to the pages but also creates an uplifting playful quality. McNally successfully animates the book with exciting designs inspired by individual's responses. A professional publication, complete with ISBN and a copy is housed in the British Library. Something special which deserves the thumbs up!

Details: Hard back, matt laminate cover. 208 pages. Uncoated, 120gsm paper. 270mm x 210mm portrait. ISBN 978-1-5262-0088-4 Visit the bookshop at Paul McNally Design
Brendan Jamison, 1 April 2016






THURSDAY 31 MARCH 2016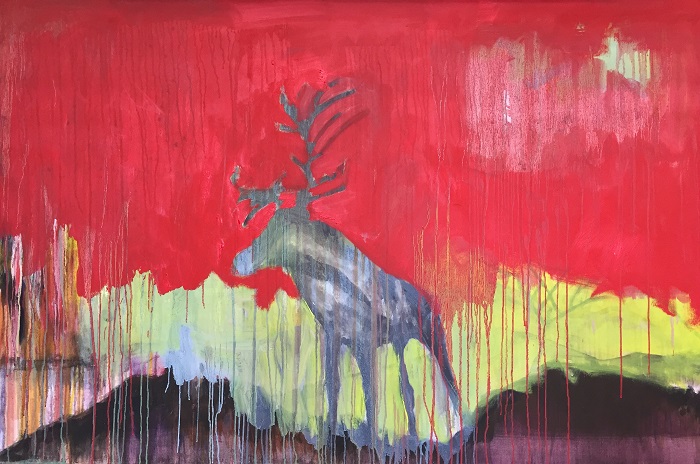 Raw: Ciaran Magill, Revolution, 2016, oil on linen, 100 x 150 cm
Catalyst Arts Explodes with Raw Exhibition

The annual members' exhibition at Catalyst Arts always satisfies a glorious feast for the senses, perpetually offering fresh experimental approaches to art and curation. This year, the Directors have chosen 'Raw' as the theme for the expansive group exhibition, teasing out unfinished works from each artist's studio. As with every Catalyst project, from the moment we set foot in the warehouse-style gallery, it promises to excite and challenge our expectations...
Details: Raw opens on Thursday 7 April 2016 from 6-9pm. Exhibition continues until Thursday 14 April. Free Entry. Opening hours: Tuesday to Saturday from 11am to 5pm. Location: 5 College Court, Belfast, Northern Ireland. For further information visit the Catalyst Arts website.
Brendan Jamison, 31 March 2016





WEDNESDAY 30 MARCH 2016
Left: 1st floor view from a restaurant on Donegall Place which overlooks the grounds of Belfast City Hall
Right: View of St. Anne's Square from Gallery 2 at The Mac
The World Outside at the Metropolitan Arts Centre (The Mac)

The architects of The Mac should be applauded for their long glass window panels in gallery 2 (the tall space). They are designed with narrow sliding walls to cover the natural light, should the need arise to darken the space for video projections or light-sensitive artworks. However, the curators often allow the outside world to be visible inside the gallery. This is a wise decision as many museums around the world will either cover their windows with material or have no windows whatsoever. Obviously North facing windows are best, this prevents direct sunlight ever hitting an artwork and causing it damage through over-saturation. Quite often, new visual art museums bear this in mind when planning the gallery windows.

Today was a sunny day in Belfast and therefore it was even more joyous standing in The Mac and admiring the views outwards at the vibrant Cathedral Quarter. Everything pulsates with the richness of colour which only the sun can bring. Art should never be divorced from the reality of the world beyond the gallery walls. More often than not, the architecture of surrounding buildings and the elevated viewpoint can excite and stimulate the gallery visitor.

The psychology of natural light plays a key role in our everyday lives. As human beings we tend to crave it when indoors. In a cafe or restaurant, almost everyone will try to get a window seat to look outwards at the world go by. And as for the workplace, it's well documented that the happiness and well-being of office staff can be directly influenced by a person's proximity to a window. When a space is devoid of natural light, it can create a much heavier atmosphere and even a large room can feel claustrophobic.

And of course anyone from the art world could recite classic examples of how light in itself has been paramount to so many disciplines from painting to photography and even sculpture and installation. We even have world-renowned artists such as the American James Turrell who sculpts with pure light. His effects are mesmerising and effectively blur the boundaries between reality and perception!
Details: Free Entry. Gallery opening hours: Monday to Sunday from 10am to 7pm. Location: 10 Exchange Street West, Belfast, Northern Ireland. For further information visit the The Mac website.

Brendan Jamison, 30 March 2016




SATURDAY 26 MARCH 2016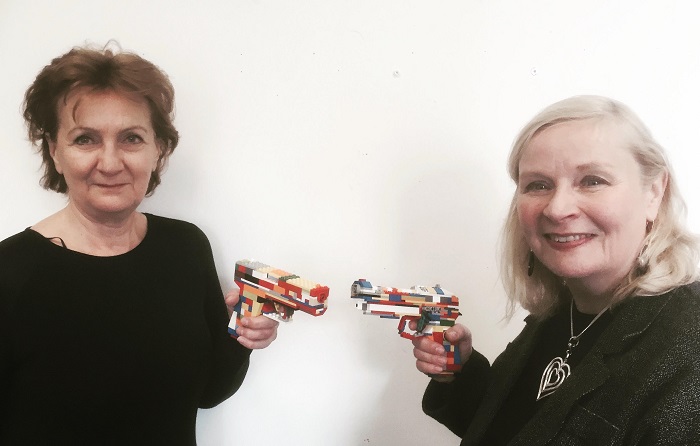 Snap shot: Chief Executive Roisin McDonough and Director of Arts Development Noirin McKinney
Firearms Purchased by Arts Council of Northern Ireland

The Arts Council of Northern Ireland (ACNI) have purchased 3 Lego guns by Belfast artist David Turner (48). The intricate replicas will now enter the permanent collection. Chief Executive Roisin McDonough and Director of Arts Development Noirin McKinney visited the artist's studio yesterday to collect the firearms.

Turner was raised in the Sandy Row area, growing up on Fortuna Street off the Donegal Road. He graduated with a Master of Fine Art in 2006 from Ulster University and his art studio is now on Bedford Street opposite the BBC. Over the past 5 years he has been employing children's toys to explore the issues of violence and conflict in Northern Ireland and throughout the world.

This is a sound investment for ACNI as Turner has developed a strong art practice with high profile exhibitions all around the world, from China to America and all across Europe. His international aesthetic breathes a freshness into the local arts scene as he tackles the impact of conflict on children, with himself a child affected by 'The Troubles' as he grew up in Belfast. While the Lego guns have a playful feel, they are also chillingly accurate, a testament to Turner's intelligence and dexterity as a sculptor. He has also used Hama beads to depict atomic detonations and he is applauded by the international art community.
Turner's only concern is that people may complain that so much public money is being spent on what appears to be Lego toys. However, high-profile global artists such as China's Ai Weiwei have been creating political themed artworks with Lego for years. The discipline of sculpture can in fact encompass absolutely any material and quite often in contemporary art, the material itself will lend extra weight to the conceptual backbone.

Brendan Jamison, 26 March 2016





David Turner, GUN SHOP, 2016, Lego replica firearms, 10 x 180 x 120 cm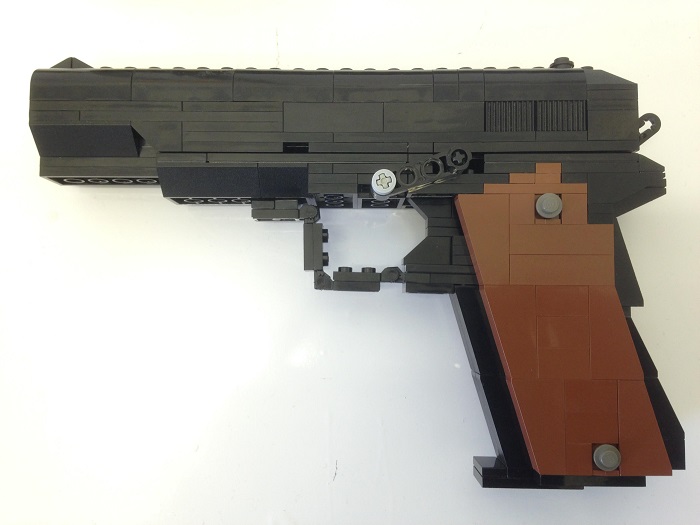 David Turner, COLT1911, 2015, Lego replica gun, 13 x 20 x 3.5 cm

Artist David Turner in his Belfast studio

TUESDAY 22 MARCH 2016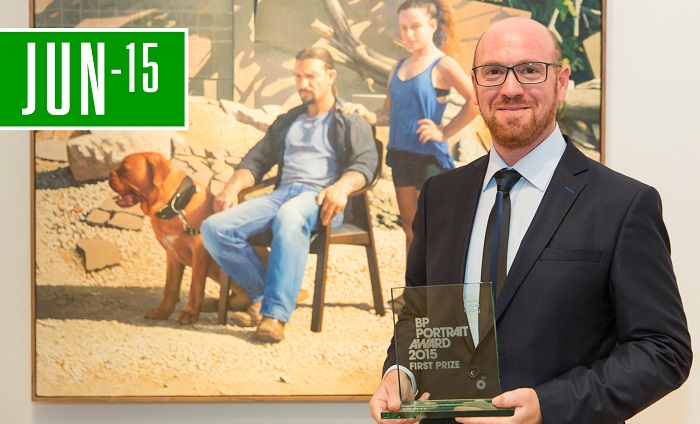 The winner of the £30,000 BP Portrait Award, Israeli artist Matan Ben-Cnaan (36)
Painters Hit Dead End as Ulster Museum Host BP Portrait Awards

London's National Portrait Gallery has dispatched its 2015 BP Portrait Awards on a touring show to Belfast's largest visual arts venue, the prestigious Ulster Museum.

Please note the vast majority of visitors who meander through the galleries of the museum are not from an art background. Therefore, if we bear this in mind, the show will come across as extremely successful in the eyes of the general public who often evaluate the strength of art based on how life-like it is. However, responses from the art audience have been far from enthusiastic.

Criticisms have been levelled at the selectors. Why have so many works been accepted which are attempting to imitate photography? And why are many artists falling so short? Has the meteoric rise of fine art photography somehow created an insecurity in the minds of contemporary portrait painters? If we take this competition as a UK example, then the answer is yes. And it pushes London far below the level of radical and progressive figurative painting in the other art world capitals of New York and Berlin.
Many visitors from the art scene in Belfast have complained that most of the works in the BP Portrait Awards are stale and severely lacking in creativity. It is certainly true that many of the exhibitors have attempted to adopt a photo-realist style, and in some cases this can render figures wooden and flat. Where these shortfalls have been avoided, in terms of technical ability, many of the artists are at the top of their game; however, there is a world of difference between technical mastery and creative genius. The formula is simple. The highlights of the exhibition are by artists who understand how to unite creative flair and imagination with dynamic compositions, animating the figures and even creating a sense of dramatic back-story.
The winner of the £30,000 award, Israeli artist Matan Ben-Cnaan (36) presents a perfect example of how realism can be executed with a strong conceptual skeleton and an alluring narrative. The interplay between the two characters (and even the dog), combined with the intensity of the female gaze at the viewer, makes for a compellingly rich painting. Without doubt, it is the most deserving work to win the award. It feels contemporary, offering a fresh aesthetic, something which many of the other painters lack. If they fail to use their imagination to its full capacity and instead continue to adopt a strategy of 'imitating' the real world, then painting will continue to hit a dead end. Painting can be so much more if the imagination is released beyond the mere appearance of reality. Otherwise the portraits are but skin deep, superficial and one dimensional.
Details: BP Portrait Award 2015 is open from Friday 11 March 2016 to Sunday 12 June 2016. Free Entry. Opening hours: Tuesday to Sunday from 10am to 5pm. Location: Botanic Gardens, Stranmillis Road, Belfast, Northern Ireland.
Brendan Jamison, 22 March 2016



TUESDAY 15 MARCH 2016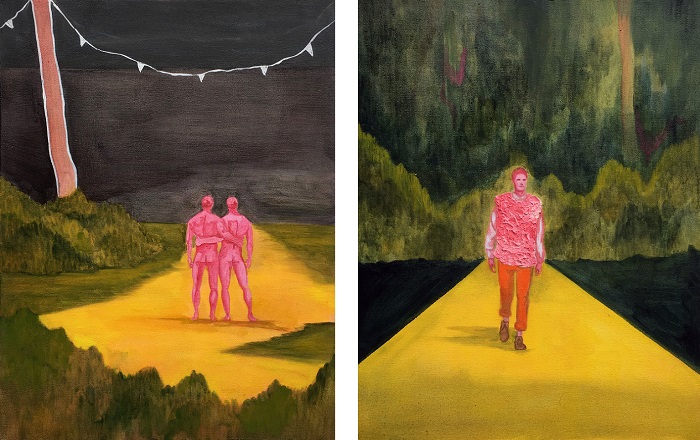 Left: Patrick Hickey, I will not let you walk into The Unknown alone, 2016, oil on canvas, 60 x 45 cm
Right: Patrick Hickey, All dressed up but nobody to see (Slay), 2016, oil on canvas, 60 x 45 cm
HYPNOTIC ALLURE: PATRICK HICKEY'S FRESH AESTHETIC ANIMATES ROSS'S

Ephemera, the first solo exhibition by Patrick Hickey, is launched tonight at Ross's Auctions in Belfast. Organised by astute art dealer Stephen Hylands, the show promises to deliver a fresh aesthetic to the genre of landscape and figurative painting.
Hickey delivered the strongest graduation exhibition at the Summer 2015 'end of year shows' at the Belfast School of Art & Design. Aside from three of his works purchased for my own art collection, he is also much admired by other contemporary collectors, a testament to the impact of his unique vision and the technical brilliance of his brushwork.
In a development from last year, Hickey's new paintings take us even deeper into an intoxicating fantasy realm of athletic males submerged in a mystical forest or standing on the edge of a beach, looking outwards into an abyss. The scenes are either populated by figures which are together or alone, or the compositions are devoid of human presence, but alluded to through the placement of tents and caravans.
Hickey offers a fresh international aesthetic, much in tune with the atmosphere of a Hernan Bas painting, with both artists capturing a tension within their dreamscapes. Imagine the tranquillity is about to be dissolved or disrupted by some unexpected terror, as if something menacing is lurking just beyond the periphery or perhaps within the trees of the background.
Ephemera will delight any contemporary art lover and the show could easily sit at any of the major art galleries of New York, London or Berlin. Fresh. Relevant. Intoxicating.
Details: Epemera opens on Tuesday 15 March 2016 from 7-9pm. Exhibition continues until Friday 1 April. Free Entry. Opening hours: Monday to Friday from 9am to 5pm. Location: 37 Montgomery Street, Belfast, Northern Ireland.
Brendan Jamison, 15 March 2016