2013: TEUFELSBERG SPY STATION SERIES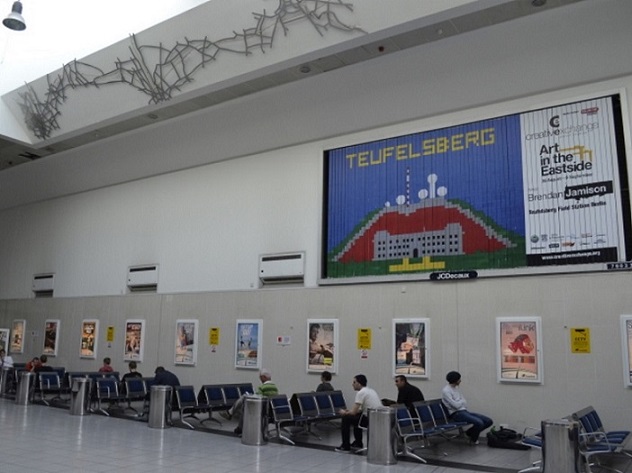 BILLBOARD: TEUFELSBERG CROSS-SECTION (2013) Brendan Jamison, billboard, 250 x 500 cms. Art in the Eastside, Belfast Central Station, Northern Ireland. September 2013. Photography: Bronagh Lawson.
From September 2012 to April 2014, Brendan Jamison worked on a project in response to Teufelsberg Field Station Berlin, a secret listening station built during the Cold War era. It is located in the Grunewald, Berlin's largest forest, and sits on the peak of Teufelsberg (translated as Devil's Mountain), an artificial hill built from the rubble of the bombed buildings of the Second World War.
Field Station Berlin was built in 1963 by the American National Security Agency and shared with British Intelligence. In early 1992, the intelligence community vacated Teufelsberg following the end of the Cold War, however, the work undertaken there remains classified. From the outset the field station was clouded in secrecy. Over the years, some of these mysteries have been revealed, whilst others have become mixed with myth and imagination...
For further information on Brendan Jamison's research into the spy station please visit CLICK HERE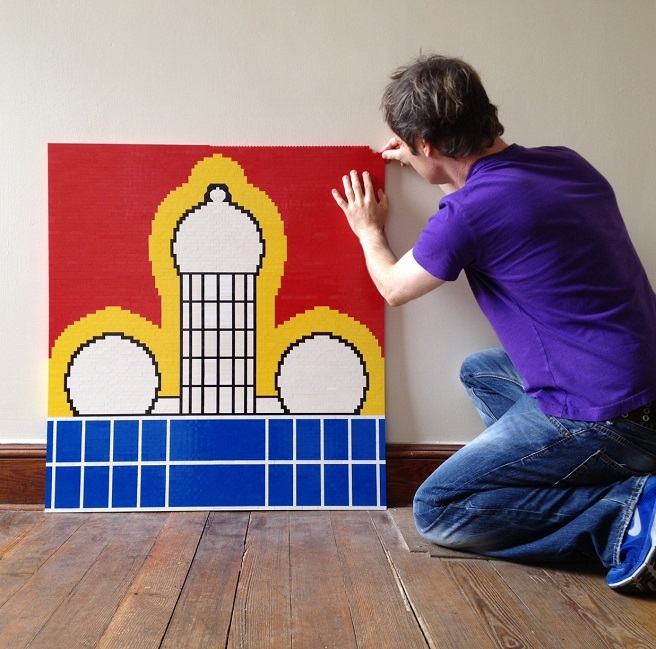 ARTIST BRENDAN JAMISON COMPLETING CROSS-SECTION OF TRIPLE RADOME BUILDING AT TEUFELSBERG FIELD STATION BERLIN (2013) Coloured plastic blocks. 95 x 87 x 2 cms. Photography: © Jamison Sculpture Studio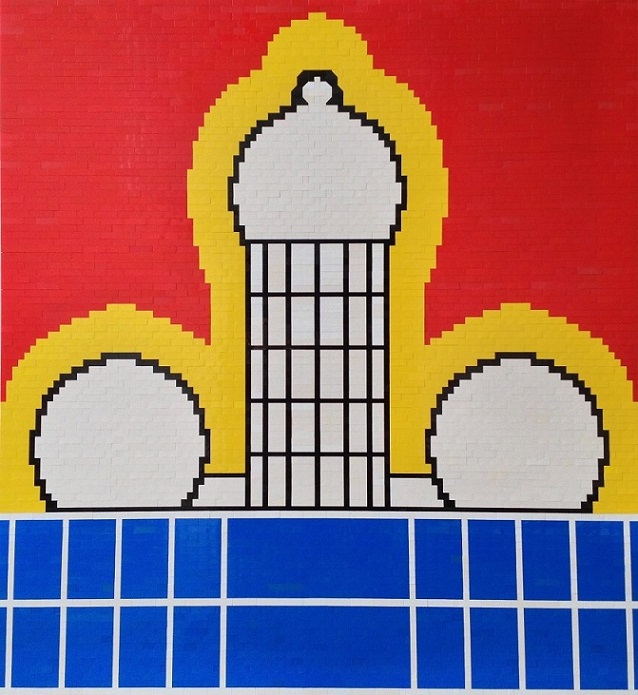 CROSS-SECTION OF TRIPLE RADOME BUILDING AT TEUFELSBERG FIELD STATION BERLIN (2013) Brendan Jamison. Coloured plastic blocks. 95 x 87 x 2 cms. Photography: © Jamison Sculpture Studio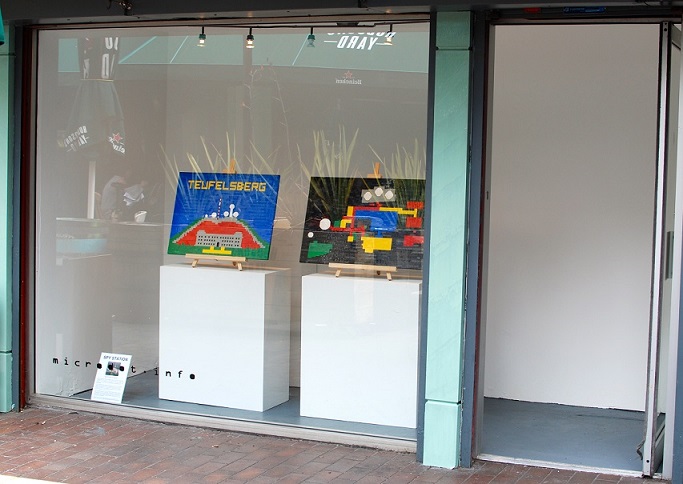 SPY STATION, a solo exhibition by Brendan Jamison at Microdot Gallery, Belfast. August 2013. Photography: © David Turner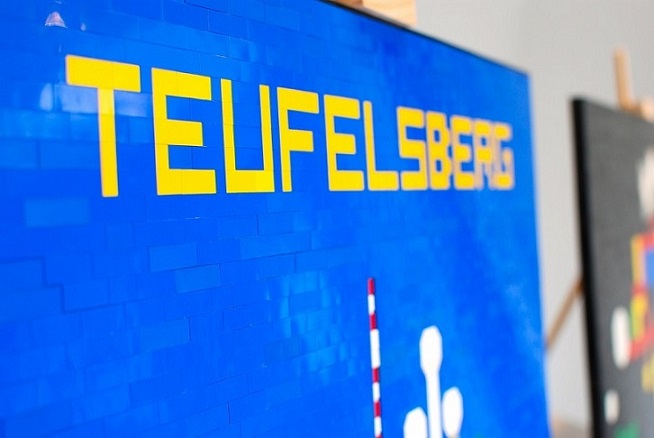 Detail of TEUFELSBERG CROSS-SECTION (2013) Brendan Jamison, coloured plastic blocks, 50 x 67 x 2 cms. Photography: © David Turner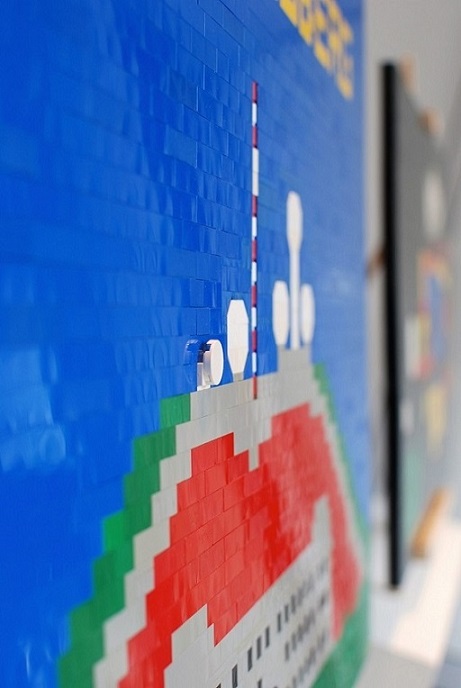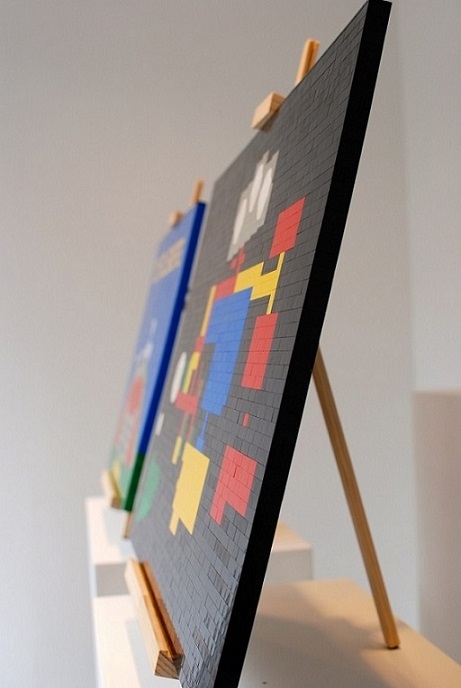 LEFT: Detail of TEUFELSBERG CROSS-SECTION (2013) Brendan Jamison. Coloured plastic blocks, 50 x 67 x 2 cms. RIGHT: AERIAL PERSPECTIVE OF TEUFELSBERG FIELD STATION BERLIN (2013) Brendan Jamison. Coloured plastic blocks, 50 x 78 x 2 cms. Photography: © David Turner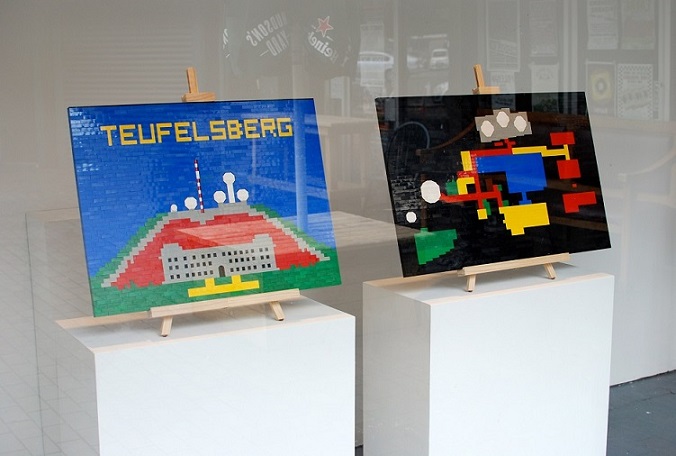 SPY STATION, a solo exhibition by Brendan Jamison at Microdot Gallery, Belfast. August 2013. Photography: © David Turner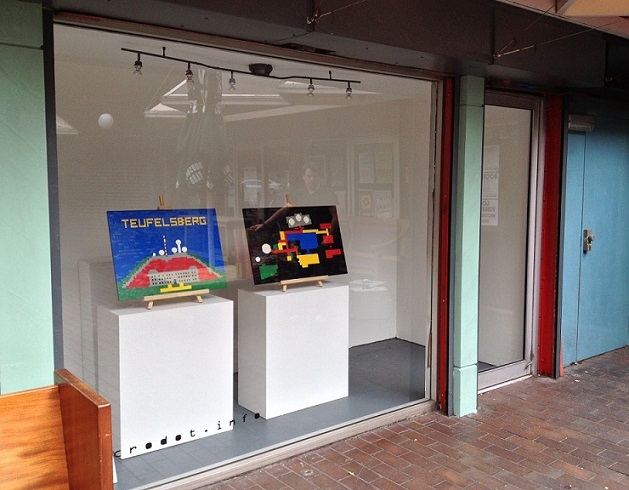 SPY STATION, a solo exhibition by Brendan Jamison at Microdot Gallery, Belfast. August 2013. Photography: © Jamison Sculpture Studio
CONSTRUCTING A RADOME
Location: Jamison Sculpture Studio, Belfast. July 2013
Design and construction: Professor Sean Miller, Brendan Jamison and David Turner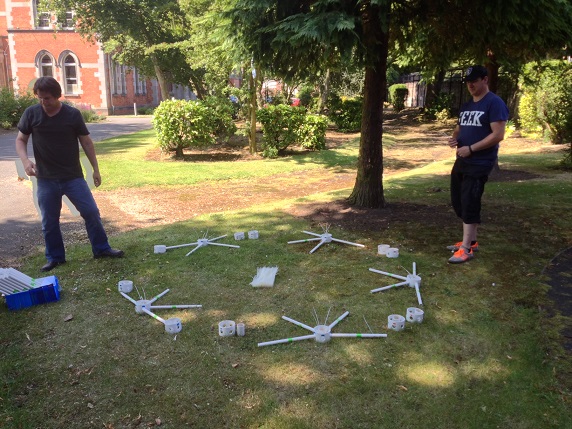 CONSTRUCTING A RADOME (2013) Sean Miller and David Turner on the lawn of Jamison Sculpture Studio, Belfast, Northern Ireland. July 2013. PVC rods, drilled pipes and cable ties. Photography: © Jamison Sculpture Studio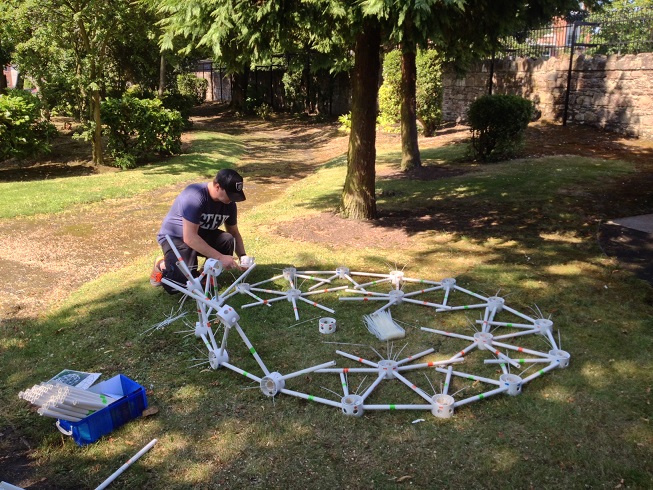 CONSTRUCTING A RADOME (2013) David Turner on the lawn of Jamison Sculpture Studio, Belfast, Northern Ireland. July 2013. PVC rods, drilled pipes and cable ties. Photography: © Jamison Sculpture Studio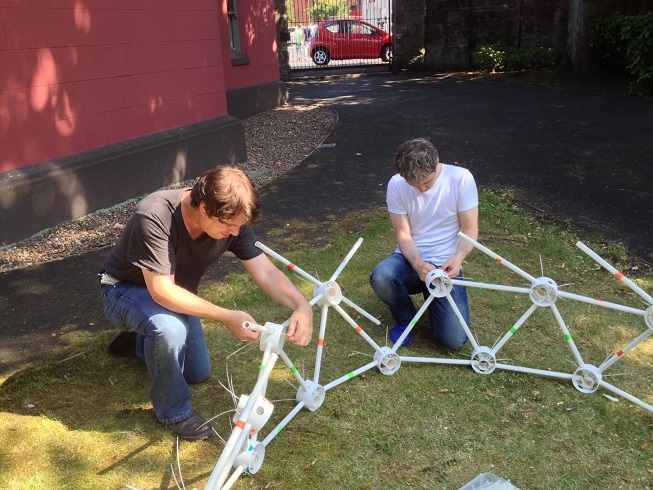 CONSTRUCTING A RADOME (2013) Sean Miller and Brendan Jamison on the lawn of Jamison Sculpture Studio, Belfast, Northern Ireland. July 2013. PVC rods, drilled pipes and cable ties. Photography: © Jamison Sculpture Studio
CONSTRUCTING A RADOME (2013) Brendan Jamison and Sean Miller on the lawn of Jamison Sculpture Studio, Belfast, Northern Ireland. July 2013. PVC rods, drilled pipes and cable ties. Photography: © Jamison Sculpture Studio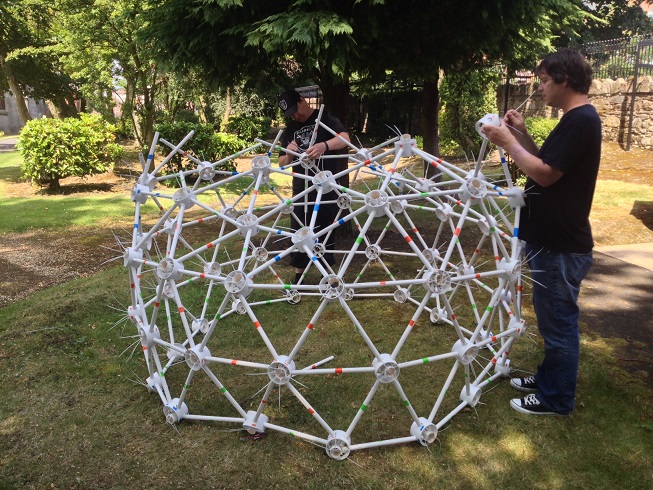 CONSTRUCTING A RADOME (2013) David Turner and Sean Miller on the lawn of Jamison Sculpture Studio, Belfast, Northern Ireland. July 2013. PVC rods, drilled pipes and cable ties. Photography: © Jamison Sculpture Studio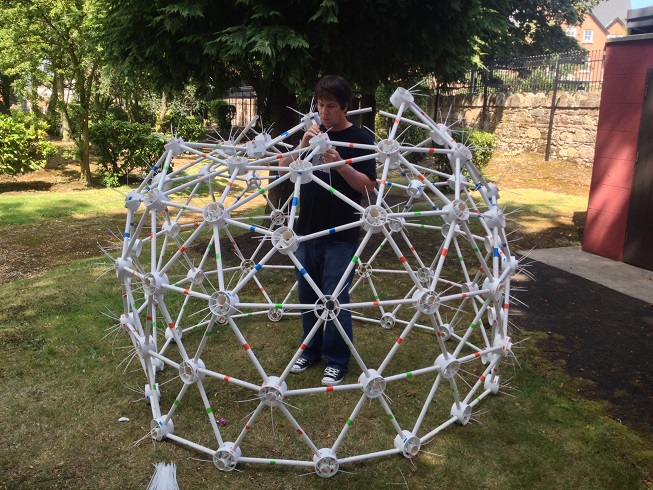 CONSTRUCTING A RADOME (2013) Sean Miller on the lawn of Jamison Sculpture Studio, Belfast, Northern Ireland. July 2013. PVC rods, drilled pipes and cable ties. Photography: © Jamison Sculpture Studio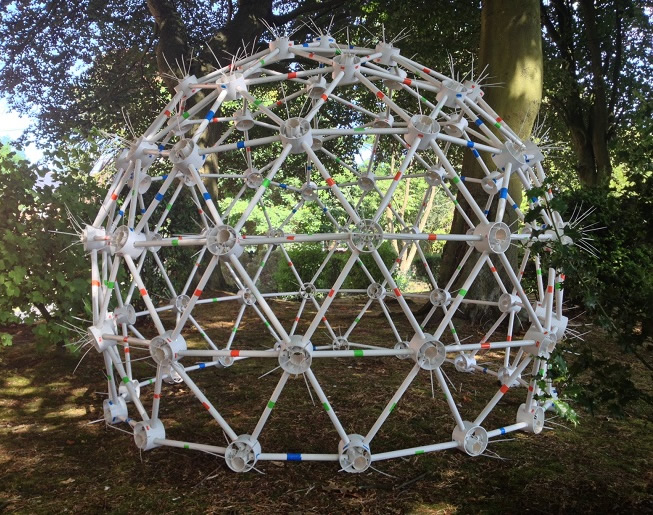 SKELETON OF A RADOME (2013) Sean Miller and Brendan Jamison. PVC rods, drilled pipes and cable ties. 180 x 190 x 190 cms. Jamison Sculpture Studio, Belfast, Northern Ireland. Contructed during July 2013. Photography: © Jamison Sculpture Studio
______________
2012: CONTAINER SERIES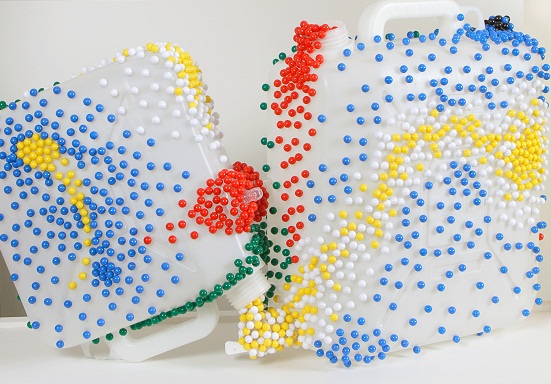 CONTAINERS (2012) Brendan Jamison. Plastic water containers and giant map pins. 40.5 x 69 x 30 cms. Presented on a low white plinth with slot. Photography © Tony Corey for Jamison Sculpture Studio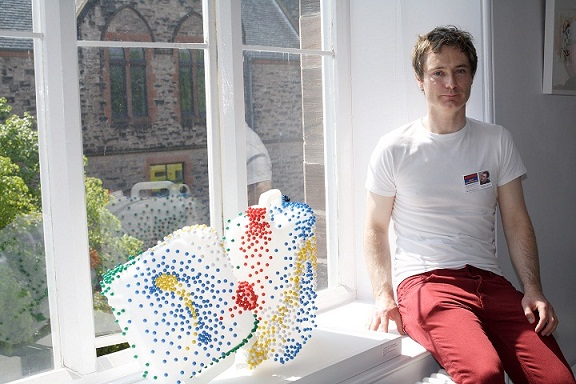 CONTAINERS (2012) Brendan Jamison. Plastic water containers and giant map pins. 40.5 x 69 x 30 cms. Presented on a low white plinth with slot. Installed at WARNING ART exhibition, Crescent Arts Centre, Belfast. May/June 2012. Photography © Tony Corey for Jamison Sculpture Studio